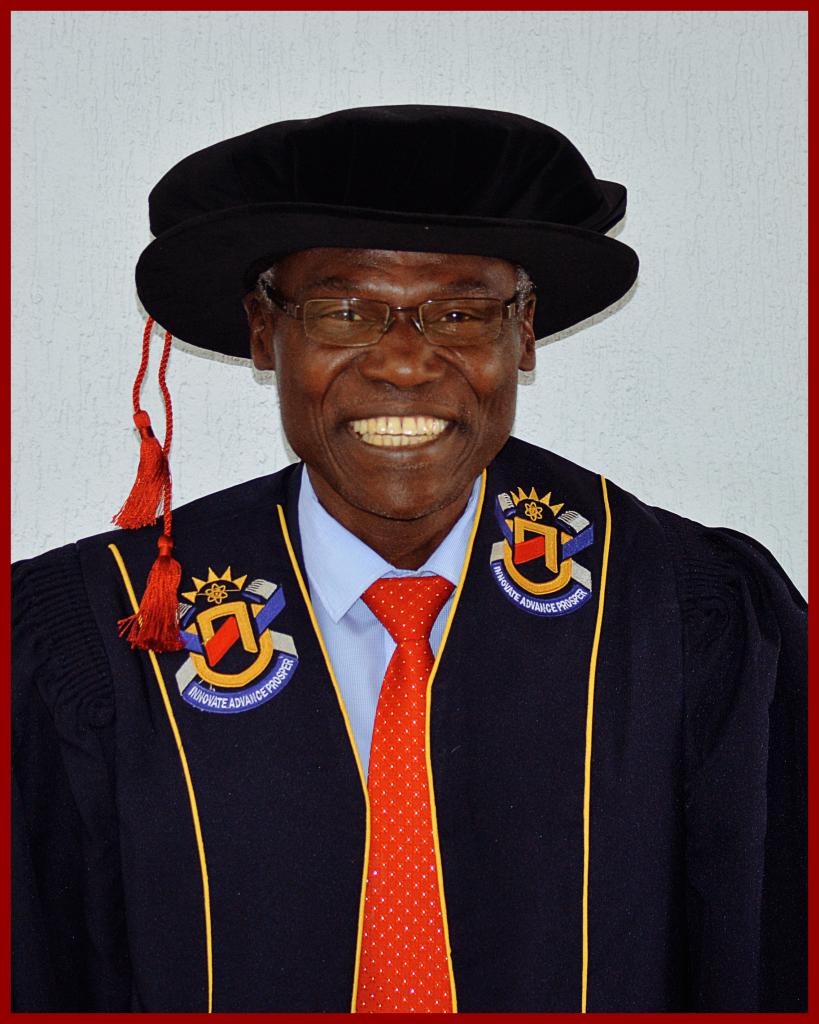 Prof Samuel John
Director
PhD. Mechanical Engineering, University of the Witwatersrand, Johannesburg, South Africa(2012)
MTh. South Africa Theological Seminary (SATS) (2019)
MSc. Mechanical Engineering, Ahmadu Bello University, Zaria, Nigeria (1992)
BEng. (Hons) Mechanical Engineering, Ahmadu Bello University, Zaria, Nigeria (1987)
Biography
Prof Samuel John studied Mechanical Engineering at the Ahmadu Bello University Zaria, in Nigeria. He obtained his Bachelor of Engineering in 1987 and Master of Science in mechanical engineering in 1992 in the same university. He then obtained his Doctor of Philosophy degree at the University of the Witwatersrand Johannesburg, South Africa in 2012. Professor John is also a theologian with a Master of Theology in integrated theology, which he obtained in 2019 at the South African Theological Seminary (SATS). Professor John joined NUST (formerly the Polytechnic of Namibia) on 1st August 2003 as a Senior Lecturer. He has served as Deputy HoD and HoD of the Department of Mechanical Engineering and was Dean of the Faculty of Engineering from 2013 to 2019.
Brief Career Summary
2015+ Director/Professor of Mechanical Engineering, DMME, NUST, Namibia
2013-2020 Dean: Faculty of Engineering, Namibia University of Science and Technology, Namibia
2010 - 2015 Deputy Director/ Associate Professor, Mechanical Engineering DMME, NUST, Namibia
2006-2013 Head of Department, Department of Mechanical Engineering, PoN, Namibia
2003-2006 Senior Lecturer, Department of Mechanical Engineering, PoN, Namibia
Professional Affiliations
MNSE (No 5805)
COREN (No R.7394) 
MIEEE (92714456)
Research Focus Areas
Control systems design and application
Green hydrogen energy systems
Maritime
Courses Currently Teaching
Undergraduate
Mechanics of Materials
Dynamics
Control Systems
Cleaner Production
Engineering Technology Management
Postgraduate
Design for Manufacturability
Control and Measurements
Master and Doctoral research supervision
Community Development Activities
Brain Match for high schools
Selected Publications 
Peer-reviewed articles
Mercy Chitauro, Hippolyte Muyingi, Samuel John, Shadreck Chitauro (2020): A Bio-immunology Inspired Industrial Control System Security Model, in proceedings of First International Conference on Sustainable Technologies for Computational Intelligence 823-835
Nina Savela, Jarkko Lev ̈anen, Sara Lindeman, Nnenesi Kgabi, Heikki Koivisto, Meri Olenius, Samuel John, Damas Mashauri and Minna Kein ̈anen-Toivola (2020). Rapid Urbanization and Infrastructure Pressure: Comparing the Sustainability Transition Potential of Water and Energy Regimes in Namibia World 1(2), 49-66 doi:10.3390/world1020006.
Katende J, Zorner W., John S., Chisale P., Zulu A., et al (2016). Enhancing the widespread use of renewable energy resources in Southern African region. In proceedings of the International Conference on Domestic Use of Energy (ISBN 978-0-9946759-0-3), Cape Town South Africa.
Kein ̈anen-Toivola M., John S., Matros-Goreses A., Koivisto H., & Karinne S. (2015). Business with impact through strategic co-operation and research work in Namibia - SAMK and Polytechnic of Namibia heading for urban development in Africa. Journal of Finnish Universities of Applied Sciences 3, 1-4.
Zulu A. & John S. (2014)A Review of Control Algorithms for Autonomous Quadrotors Open Journal of Applied Sciences 4, 547-556.
Zoner W., Chisale P., John S., Zulu A., et al (2014). NEED: Network of Excellence in Renewable Energy Technologies for Development. In proceedings of Solar Energy Technology in Development Cooperation, Ostbayerisches Technologie-Transfer-Institute V. (Otti), Regensburg (ISBN978-3-943891-43-0) Germany, (pp 232-237)
John S.(2013) Artificial Intelligent-Based Feedforward Optimized PID Slip Controller. Proceedings of the IEEE AFRICON Conference (pp. 1-6). Mauritius.
John S. & Pedro J.O. (2013). Neural-Network based Adaptive Feedback Linearization Control of Anti-lock braking System. International Journal of Artificial Intelligent Spring (March) 10(S13), (pp. 21-40).
John S. & Pedro J.O. (2013). Hybrid Feedback Linearization Slip Control for Anti-Lock Braking System. Acta Polytechnica Hungarica, Journal of Applied Sciences 10(1), (pp. 81-99)DOI: 10.12700/APH.10.01.2013.1.5.
John S. (2012). PID Slip Control of Antilock Braking System Incorporating Passive Suspension Dynamics. Epistemics in Science, Engineering and Technology (ESET) 2(4), (pp. 175- 183).
John S. and Pedro J.O. A Comparative Study of Two Control Schemes for Anti-Lock Braking Systems. Proceedings of the IEEE Asian Control Conference (pp. 1-6). Istanbul
John, S., & Pedro, J. O. (2012). Non-linear slip control for anti-lock braking system, In Proceedings of the IASTED International Conference on Modelling and Simulation held in Gaborone, Botswana, 3-5 September 2012 (pp. 169-176).
John, S., & Pedro, J. O. (2012). Development of model-based wheel slip control using feedback linearization. In
Proceedings of 8th South African Conference on Computation and Applied Mechanics (SACAM) held in Johannesburg, South Africa, 3-5 September 2012 (p. 17).
PhD Thesis, University of the Witwatersrand, October 2012.
John, S. (2012). PID slip control of anti-lock braking system incorporating passive suspension dynamics. In Proceedings of the International Conference of Civil Engineering held in Ilorin, Nigeria, 4-6 July 2012 (pp. 157-167).
Research gate: https://www.researchgate.net/profile/Samuel-John-d