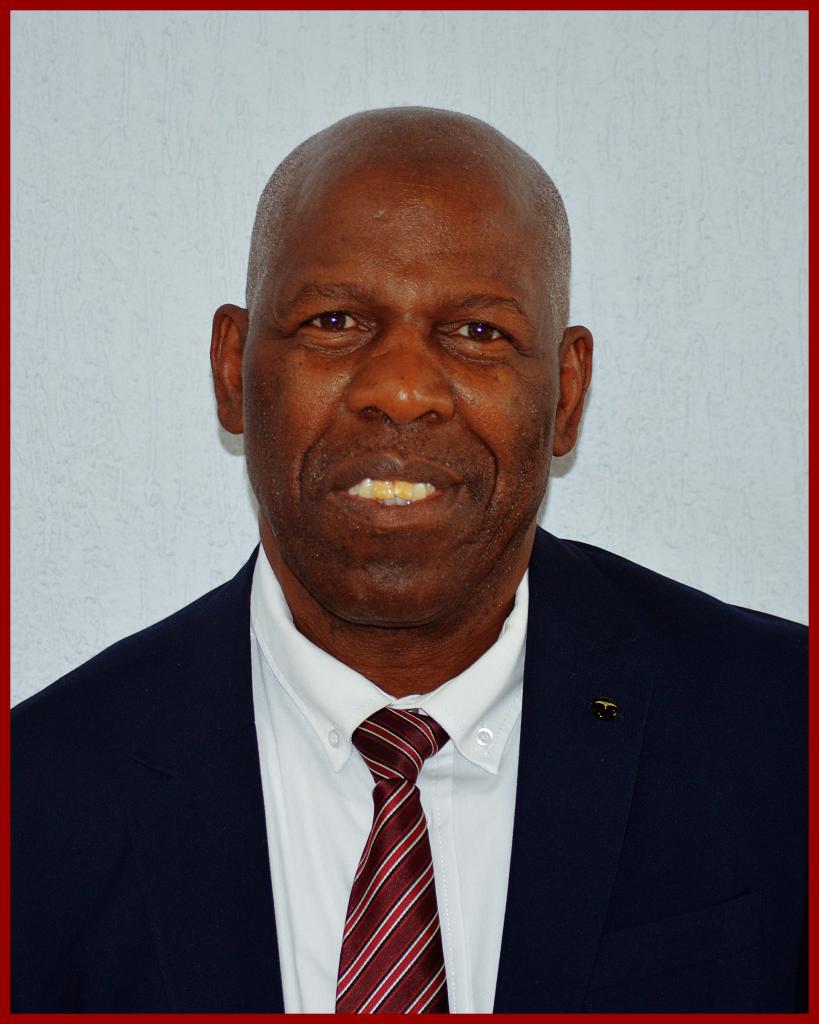 Prof Benjamin Mapani
Professor
Research Seminar Organiser
Ph.D. Geodynamics (University of Melbourne, Australia)
D.E.S.S (M.Sc. Equivalent) (Ecole des Mines, Nancy)
B.Sc. Mineral Sciences (UNZA)
Biography
Benjamin Mapani completed his Honours Bachelor's degree at the University of Zambia in 1986 proceeded to work as a Regional Mapping Geologist at the Geological Survey of Zambia. He produced two Map sheets. He briefly worked for a Zn and Pb mine and then proceeded for his M.Sc. in 1989-1990. In 1991 he secured a competitive Commonwealth Scholarship for his Ph.D., in Australia. He commenced his Ph.D., in 1991 and completed in 1993. He graduated in April of 1994. Thereafter he taught at the University of Zambia until 1997. Then joined the University of Zimbabwe in 1998 where he was tasked to build an International Masters Programme in Exploration Geology. This was a very successful programme that produced cadres that are working across the globe. In 2002, he moved to Namibia to begin and mount a geology programme at the University of Namibia. The Department began with two personnel for a period of 6 years, and now it is a full-fledged entity producing Masters and Ph.D. cadres. He served at UNAM from 2002 to 2019. In 2020 he joined NUST in the Department of Mining and Process Engineering as a Professor in Mining and sustainable development.
Professional Affiliations 
Member of the Geological Society of Namibia, Member of the Geoscience Council (Namibia)
Member of the South African Geological Societ
Member of International Union of Geological Sciences
Member of Hydrogeological Society of Namibia.
Research Focus Areas
Geodynamics of Mobile Belts
Tree ring research and dendroclimatology (climate change research)
Groundwater and environmental geology of abandoned mine sites
Environmental Assessments of abandoned and operating mines
Courses Currently Teaching
Undergraduate
Mining Geology
Applied Mineralogy for metallurgical engineers
Engineering Geology
Structural Geology
 Geochemistry
Geostatistics
Exploration and Mining Geology
Metamorphic Petrology
Engineering Geology
Hydrogeology
Economic Geology
Remote Sensing.
Postgraduate
Exploration Geology
Geodynamics
Hydrogeology
Geochemistry
Isotope Geology
Community Development Activities
Has served as President of the Geological Society of Namibia;
As Secretary General of Geological Society of Africa;
As Chairperson of the IUGS (International Union of Geological Sciences) Commission on Environmental Geology and Geohazards; launched UNESCO projects for reaching out to high schools to popularize science and;
Actively involved in serving as Editor of the Journal of African Earth Sciences; Past Managing Editor of the Journal of Physics and Chemistry of the Earth.
Selected Publications
Books
Mapani, B.S.E. and Moore, T.A., 1999.  The Geology of the Serenje Area: Explanation of Quarter degree Sheet 1330NW. Report, Geological Survey Zambia, No. 51, 59 pages. (A book, published by the Geological Survey)
Book Chapters
Mapani, B., Chimwamurombe, P., Mapaure, I., Miller J. and Mileusnic, M. 2011. Estimation of Climate Change and adaptation strategies using water, soil and honey as sampling media: examples from Namibia. In Mapaure, I., Mhango, B. and Mulenga D., (editors); Mitigation and Adaptation Strategies to Climate Chang, e. Part II: Case studies and Innovation approaches. Pages 199-209. Published by RAEIN-Africa Secretariat, 259 pages. ISBN : 978-99945-72-85-4
Mapani, B and Ellmies, R. 2011. Should we be concerned with long term health problems associated with pesticides in Namibian Groundwater? In M. Stoytcheva (editor): Pesticides in the Modern World-Risks and benefits. Chapter 23, Pages 423-434. ISBN 978-953-307-458-0. INTEC Publications
Mapani, B., Ellmies, R., Kribek, B., Kamona, F., Majer, V., Knesl, I., Pasava, J., Konapasek, J., Kawali, L. 2009. Impact Assessment studies from Southern Africa: Human health risks associated with historic ore processing at Berg Aukas, Grootfontein, area, Namibia. Southern African Institute for Environmental Assessment; Chapter 1;  pages 1-10; 2009, Cape Town
Peer-reviewed articles (last 5 years)
Mapani, B., Shikangalah, R., and Mwetulundila, A. 2022. A review on water security and management under climate change conditions, Windhoek, Namibia. Journal of African Earth Sciences, volume 197, 104749. Doi: https://doi.org/10.1016/j.jafrearsci.2022.104749
Perry, I., Jams, I.B., Casa-Mulet, R., Hamutoko, J., Marchbank, A., Lendolvo, S., Naomab, E., Mapani, B., Creer, S., Wanke, H., Durance, I., and Kille, P. 2022. Challenges in implementing Environmental-DNA Monitoring in Namibia. Frontiers in Environmental Science, volume 9: 773991. https://Doi: 10.3389/fenvs.2021.773991
Titus Nghipulile, Thomas Ehongo Moongo, Godfrey Dzinomwa, Sandile Nkwanyana, Benjamin Mapani and Jaquiline Tatenda Kurasha. 2022. Evaluation of the Relationship between the Milling Breakage Parameters and Mineralogical Data: A Case Study of Three Copper Ores from a Multi-Mineralised Deposit.  Minerals 2022, 12, 1263. https://doi.org/10.3390/min12101263
Shikangalah, R., Mapani, B., Mapaure, I., Herzschuh, U. 2022. Responsiveness of Dichrostachys cinerea to seasonal variations in temperature and rainfall in central Namibia.  Flora, volume 286; 151974.  https://doi.org/10.1016/j.flora.2021.151974
Ettler, V., Martin Mihaljevič, Ladislav Strnad, Bohdan Kříbek, Tomas Hrstka,  Fred Kamona and Ben Mapani. 2022. Gallium and germanium extraction and potential recovery from metallurgical slags. Journal of Cleaner Production, volume 379 (2022) 134677. https://doi.org/10.1016/j.jclepro.2022.134677
Mapani, B., Shikangalah, R., Mapaure, I., and Musimba, A. 2021. Dichrostachys cinerea growth rings as natural archives for climatic variation in Namibia. In, W. Leal Filho et al., (Editors), African Handbook of Climate Change Adaptation. Springer Nature Switzerland AG 2021. https://doi.org/10.1007/978-3-030-42091-8_257-1
Vojtěch Ettler, Martin Mihaljevič, Ladislav Strnad, Radim Jedlicka, Bohdan Kříbek, Rob J. Bowell, Fred Kamona and Ben Mapani. Mineralogy of Ga- and Ge-bearing metallurgical slags from Tsumeb (Namibia). 2021. Doi:10.1180/mgm.2021.83. Published online by Cambridge University Press:  10 November 2021
Harris, M., Mapani, B.S., Cornell, D.H., Malobela, T., Weber, B., Kristoffersen, M., Lehman Francko, K. and Hanson, R. 2021. Chronostratigraphic correlation of the volcanic 1.21 Ga Barby and Haiber Flats Formations in the Sinclair Supergroup of Namibia. Journal of African Earth Sciences, volume 178, 104180. https://doi.org/10.1016/j.jafrearsci.2021.104180
Shikangalah, R., Musimba, A., Mapaure, I., Mapani, B.,  Herzchuh, U., Tabares, X. and Kamburone-Ngavetene, C. 2021. Growth rings and stem diameter of Dichrostachys cinerea and Senegalia mellifera along a rainfall gradient in Namibia.  Journal of Trees, Forests and People. https://doi.org/10.1016/j.tfp.2020.100046
Tuhỳ, M., Ettler, V., Rohovec, J., Matouskova, S., Mihaljevic, M., Kribek, B., and Mapani, B. 2021. Metal(loid)s remobilization and mineralogical transformations in smelter polluted savanna soils under simulated wildfire conditions. Journal of Environmental Management, volume 293.112899. https://doi.org/10.1016/j.envman.2021.112899
Shikangalah, R., Mapani, B., Mapaure, I., Herzchuh, U., Musimba, A., and Tabares, X. 2020. Growth ring formation of Dichrostachys cinerea and Senegalia mellifera in arid environments in Namibia. Dendrochronologia, 59, 125661 (1-10)
Shikangalah, R. and Mapani, B.S. 2020. Ephemeral river systems and their ecosystems provisions to local populations: A review of the Huab and Ugab Rivers, Namibia. International Science and Technology Journal of Namibia, Volume 14; pages 10-21
Cornell, D.H., Harris, M., Mapani, B.S., Malobela, T., Frei, D., Kristoffersen, M., Lehman Francko, K., and Hanson, R. 2020. Dating the Guperas Formation rhyolites changes the stratigraphy of the Mesoproterozoic Sinclair Supergroup of Namibia. South African Journal of Geology.  https://doi:10.25131/sajg.123.0040
Tuhỳ, M., Rohovec, J.,  , Rohovec, J., Matouskova, S., Mihaljevic, M., Kribek, B., Vanek, A., Mapani, B., Gottlicher, J., Steininger, R., Majzlan, J., and  Ettler, V.  2020. The potential wildfire effects on mercury remobilization from topsoils and biomass in a smelter-polluted semi-arid area. Chemosphere, 247, (2020) 125972. https://doi.org/10.1016/j.chemosphere.2020.125972   
 Vojtěch Ettler , Alice Jarošíková , Martin Mihaljevič , Bohdan Kříbek , Imasiku Nyambe , Fred Kamona , Ben Mapani. 2020.  Vanadium in slags from smelting of African Pb-Zn vanadate ores: Mineralogy, extractability and potential recovery. Journal of Geochemical Exploration, volume 218, 106631. https://doi.org/10.1016/j.gexplo.2020.106631
Shikangalah, R. and Mapani, B. 2020.  A review of bush encroachment in Namibia: From a problem to an opportunity. Journal of Rangeland Science, 2020, Vol. 10 No.3, 1-16.
 Shikangalah, R. and Mapani, B. 2019.  Precipitation variation and shifts over time: implications on the City of Windhoek water supply.  Physics and Chemistry of the Earth, doi.org/10.1016/j.pce.2019.03.005
Simon H. Shanyengana, Honghai Fan, Chunji Xue, Elias S. Shanyengana, Benjamin Mapani, Emmanuel Shilongo, Jinyong Chen. 2019. An example of uraniferous leucogranites in the Rössing South-West deposit, Namibia. Journal of African Earth Sciences, volume 160, doi.org/10.1016/j.jafrearsci.2019.103698
Malobela, T., Mapani, B., Harris, M., Cornell, D., Karlsson, A., Johnsson, A.K., Lundell, C and Kristoffersen, M. 2019. Age and geological context of the Barby Formation, a key volcanic unit in the Mesoproterozoic Sinclair Supergroup of southern Namibia. South African Journal of Geology, 27, (4), 519-540. Doi:10.25131/sajg.122.0038
Hamutoko, J., Post, V.E.A., Wanke, H., Beyer, M., Houben, G., and Mapani, B. 2019.  The role of perched aquifers in regional groundwater recharge in semi-arid environments: evidence from the Cuvelai-Etosha Basin, Namibia. Hydrogeology Journal. Doi.10.1007/s10040-019-02008-w
Vojtěch Ettler,⁎ , Markéta Cihlová , Alice Jarošíková , Martin Mihaljevič , Petr Drahota , Bohdan Kříbek , Aleš Vaněk , Vít Penížek , Ondra Sracek , Mariana Klementová , Zbyněk Engel , Fred Kamona , Ben Mapani.  2019. Oral bioaccessibility of metal(loid)s in dust materials from mining areas of northern Namibia. Environment International, 124, 205-215
Mihaljevič, M., Mihaljevič, M.,  Baieta, R., Ettler, V., Vaněk, A., Kříbek, B.,  Penížek, V., Drahota, P.,  Trubač, J.,  Ondra Sracek, O., Chrastný, V., Mapani, B.S. 2019.  Tracing the metal dynamics in semi-arid soils near mine tailings using stable Cu and Pb isotopes. Chemical Geology, 515, 61-76
Mapani, B., Makurira, H., Magole, L., Meck, M., Mkandawire, T., Mul, M. and Ngongondo, C. 2018. Innovative solutions for intractable water problems in the face of climate change in Southern and East African sub regions. JPCE, volume 105, 1-2
Tabares, X., Mapani, B., Blaum, N. and Herzschuh, U. 2018. Composition and diversity of vegetation and pollen spectra along gradients of grazing intensity and precipitation in southern Africa. Review of Palaeobotany and Palynology, volume 253, 88-100
Kříbek, B. , Šípková, A., Ettler, V., Mihaljevič, M., Majer, V., Knésl, I., Mapani, B., Penížek, V., Vaněk, A., Sracek, O. 2018. Variability of the copper isotopic composition in soil and grass affected by mining and smelting in Tsumeb, Namibia.  Chemical Geology, 493, 121-135
Grosslova, Z., Vanek, A., Oborna, V., Mihaljevic, M., Ettler, V., Trubac, J., Drahota, P., Penizek, V., Pavlu, L., Sracek, O., Kribek, B., Voegelin, A., Gottlicher, J., Drabek, O., Tecnecky, V., Houska, J., Mapani, B., Zadorova, T. 2018. Thallium Contamination of desert soil in Namibia: Chemical, mineralogical and isotopic insights. Environmental Pollution, volume 239, 272-280
Conference presentations & invited talks
Shikangalah, R. and Mapani, B. 2017.  Precipitation variations and shifts over time: Implications on Windhoek city water supply.  18th Water Symposium, Swakopmund, Namibia. 26th-30th October, 2018
Kambinda, W and Mapani, B. 2016. Vulnerability of the Naukluft Aquifer, SW Namibia. 16th WaterNet Symposium, Gaborone, Botswana. 30th October -3rd November 2016
Mapani, B., Cornell, D. and van Schijndel, V. 2013. The Geochronology and tectonic evolution of the Hohewarte Complex: insights in Paleoproterozoic to early Neoproterozoic crustal accretion processes in Namibia.  24th Colloquim of African Geology, Abstract Volume: "40 years of the Geological Society of Africa: Earth Science Solutions to African Development Challenges", Addis Ababa, January 8-14th, 2013; page 25
Benjamin S. MAPANI, R.L. HAHN, Rainer ELLMIES, Gabi SCHNEIDER, Norwell MWANANAWA Shoopala UUGULU and William AMAAMBO. 2012. Results of urine and blood analyses from residents living around the copper smelter: Tsumeb Namibia —  an example of anthropogenic contamination? 34th International Geological Congress: Unearthing the past and Future-resourcing tomorrow. Brisbane, 5th-12th August 2012
Vennemann, T., Reymond, C., Buffat, A., Despond, L., Morel, C., Naude, K., Miller, J. and Mapani, B. 2012. Stable Isotopes in the service of water resource management in the Namib-Naukluft area of Namibia.  34th International Geological Congress: Unearthing the past and Future-resourcing tomorrow. Brisbane, 5th-12th August 2012
M. Mileusnic, S. Ruzicic, B. Mapani, A.F. Kamona, I. Mapaure, and P.M. Chimwamurombe, 2011. Trace Elements dispersion from a tailings dam and speciation study in surrounding agricultural soils: A case study from Kombat mine area, Otavi Mountainland, Namibia. IGCP/SIDA Project 594, Proceedings of the  Workshop, Windhoek, Namibia, July 5-6, 2012
Meck, M, Love, D and Mapani, B. 2011. Potential Dispersion of toxic elements from mine dumps into surrounding soils in Zimbabwe.  .  IGCP/SIDA Project 594, Inaugural Workshop, Kitwe, Zambia, 2011
Mileusnic, M., Ruzicic, S., Mapani, B., Kamona, A.F., Mapaure, I. and Chimwamurombe, P.M. 2011. Trace Elements dispersion from a tailings dam and speciation study in surrounding agricultural soils: A case study from Kombat mine area, Otavi Mountainland, Namibia. IGCP/SIDA Project 594, Proceedings of the  Workshop, Windhoek,Namibia, Jukly 5-6, 2012
Kamona, F., Mapani, B., Kribek, B., Majer, V., Pasava, J., Percina, J., Ellmies, R., Macoun, J., Keder, J., Amkongo, A, and Sibanda, F.2011. Environmental-geochemical survey results in the Rosh pinah Region, Namibia.  IGCP/SIDA Project 594, Inaugural Workshop, Kitwe, Zambia, 2011
Mapani, B.S., Chimwamurombe, P., Mapaure, I., Miller, J. and Mileusnic, M. 2010. Estimation of climate change and adaptation strategies using water, soil and honey as sampling media: examples from Namibia. Mitigation and Adaptation strategies to climate change and innovation systems in southern Africa conference; 23-25 March 2010, Johannesburg, South Africa; Abstract volume, pages 21-22.  http://dx.doi.org/10.1016/j.epsl.2012.04.030
Rowe, C. D., Miller, J. A.., Sylvester, F.,  Backeberg, N. R., Faber, C. and Mapani, B. 2010.  Co-seismic thermal carbonate dissociation causes very thick fluidized fault gouges with distinct grain rounding and coatings: Naukluft Thrust, central Namibia. American Geophysical Union Conference, Abstract volume, Denver Colorado, USA
Mapani, B.S., 2009.  The case for uranium as a source of energy requirements for Southern Africa. Uranium conference, Geological Society of Namibia, Swakopmund, October 21-23rd,2009 Abstracts volume